Ribbons & fringes
Ribbon ribbons, gift ribbons and decorative ribbons for florists
More categories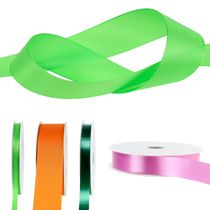 Whether in red, green or blue - a high-quality, single-colored deco ribbon by Floristik24, the craft shop for creative minds, beautifully refines every table decoration, every gift package and every wall decoration! Here you get plain colored decoration ribbons in colors like yellow, orange, purple or pink, which are also available in different widths! Each tape is wound on a practical roll and can be rolled out and portioned easily.
For example, you can use a red ribbon for a Christmas table decoration and, depending on your preference, lay across or across a white tablecloth and then combine with fresh fir branches and cones. If you want to make your table decoration a little more springlike, then grab a green, yellow or pink ribbon and a pretty spring bouquet. Incidentally, the wide deco ribbons are particularly well suited for this purpose.
If you like to make your own home decorations, then you can use the narrower bands, for example, for a window decoration and...
The crafting with the versatile natural product felt wool, from which among other things wool and ribbons are made, has become a trend for young and old for some time now! Floristik 24, your online shop for high-quality crafting material, offers you a wide selection of deco ribbons, cords, wicking threads and felt roses in different colors, widths and lengths for your decoration ideas with felt!
For example, you will find felt ribbons with printed motifs and other ribbons with fragrant petals that you can use for a variety of decorations. In particular, the decorative ribbons made of felt have different widths, so you can on the one hand flower pots, vases and buckets wrap around and on the other hand can cut beautiful felt figures from the felt belt. These can then be used as an original table decoration, embroider on clothing or even be used for sticking on greeting cards and collages. The bands also differ in structure.
So you can get everything you need for a...


Decorative ribbon and gift ribbon made of silk, felt, wool, tulle and many other materials From mesh ribbons to silk ribbons, wool ribbons and tulle ribbons to crimped ribbons - numerous materials that can be combined in any combination guarantee endless decoration options that meet every individual customer request.

Decorations made of pot bands, felt tape and wick thread in cheerful colors are particularly suitable for summer floral arrangements or presents. With one- or multi-colored, patterned or printed gift ribbons and decorative ribbons, you can conjure little works of art out of presents that are almost too good to unpack. Grinding pressure for bow ties, garland ribbons and sashes Especially for funerals and funeral ornaments we offer noble garland ribbons, mourning ribbons and funeral ribbons in black or colored. On request, the wreath ribbon can be printed in different fonts and colors and finished with fringes. Also nationality bands in the colors black-red-gold and sashes in different color combinations you can order here. Of course we will print your bows, wreath ribbons, sashes and ribbons with personal texts. Use the handy loop configurator to individually design your mourning ribbon, sash or ribbon with text, picture or photo. A selection of funeral sayings, wreaths, condolence letters and funeral quotes can be found here.
Decorative ribbons and fringes give floral arrangements, wreaths and bouquets that certain something and are indispensable to florists. Whether for decorations and flower arrangements on anniversaries, company parties, weddings or funerals - so numerous and different the occasions, so versatile are the colors, patterns and materials of ribbons and fringes in our floristry online store. Here you will find a wide range of ribbon, gift ribbons and deco ribbons especially for florists.